Nicaragua Café Diego
Creamy body and a clean, sweet citric acidity with a caramel sweetness; smooth and aromatic with a hint of chocolate and lemon.
Nicaragua Café Diego coffee is a direct trade organic coffee grown at high altitudes above 2900 feet in an old shade rainforest canopy. Diego Chavarria is the owner of the family-owned Cafe Diego Chavarria coffee farm. This is a micro-lot specialty grade organic green coffee grown in the Matagalpa Highlands on a 300 hectare farm and employs 100 workers, producing 40,000 pounds of green coffee per year. The coffee is wet-processed or washed on the farm. Emerald Roast Coffee Company supports the sustainability of coffee farmers like the Chavarria's with the purchase of this Direct Trade coffee, no middleman means more profitability and sustainability for the coffee farmer.
It is grown by Diego Chavarria in Matagalpa, Nicaragua. People from Rosedale Mennonite Missions met Diego in the 1970's while doing work in the area. They became friends and started working together. In 2006 HCR purchased a full container of Café Diego, paying twice what they were currently receiving. With the profit the men are empowered to pay their workers better, sustain the farm, and hire pastors for their workers and their families. Six churches are now supported from ongoing coffee purchases.
The Café Diego is described as having a good acidity and chocolaty undertones. It is grown at high altitudes in old shade canopy. The bean is hard and has wonderful characteristics. One of the things we enjoy about doing the coffee reviews is sharing coffee with friends who don't normally drink coffee made from fresh ground beans. We get to try new coffees and help friends find out just how easy it is to grind whole beans and then use a different brewer. It is about the relationships with people. It seems to be that way with HCR too.
This light/medium roasted Café Diego has an earthy and fruity aroma. When brewed in the French Press it has a medium body, not too heavy or too light. The taste seems to hit the middle of the tongue and there is a bittersweet chocolate flavor. It has a natural sweetness.
If you want to try some good coffee and help missionaries and missions work at the same time we suggest you try this Café Diego (Hemisphere Coffee Roasters)
Cafe Diego Nicaragua Coffee Farmer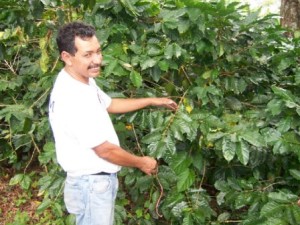 Visit Tibaagan Coffees store to purchase Cafe Diego Nicaragua
Our Coffee is Roasted Fresh and Shipped to You Immediately!